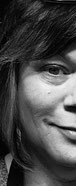 Wendy Seversen currently specializes in kilnworking and casting techniques using float glass (often recycled), oxides, metals, and occasionally enamels.  Her techniques reach back to and are inspired by Michael and Frances Higgins, and Maurice Heaton, who were instrumental in the rebirth of modern glass fusing in the 1950's, Glen Lukens, a revolutionary ceramist who kilnworked glass in the 50's and 60's, and more recent experimental artists such as Mary Shaffer and Pipaluk Lake. Her consultation with Toronto-based architectural glass artist Sarah Hall was supported by Manitoba Arts Council, and her summer at the Corning Glass studio in 2014 was funded by Winnipeg Arts Council.  Wendy has studied with noted glass artists including Denise Stillwaggon Leone, Catharine Newell, and Narcissus Quagliata.  She completed the 2014-15 MAWA Foundation Mentorship program under the mentorship of Daina Warren, which culminated in an exhibition entitled "you didn't tell me so i thought it was okay" at aceart.
Wendy's jewelry work began as an embellishment for her glass, but over the years has gained a substantial life of its own.  Largely self-taught, she has studied with Linda Chow, Doreen LaPointe, Pam East, and Hadar Jacobson.  The pattern and symmetry in her woven jewelry is created entirely by hand, out of base metal and precious metal wires, combined with components made from gemstones, kilnworked glass, sheet metal, metal clay, and copper enamel. Warmly coloured base metals and sterling are patinaed to highlight surface features. 
Wendy continues her artistic exploration and development through ongoing independent research.  Her journey is its own reward.  She, her husband, and very large dogs live near Ostenfeld, Manitoba in the midst of 60 acres of poplars, deer, bears, and ticks.  Her new studio is surrounded with beauty and inspiration every day.